Our museum serves both the scientific community and the public at large. In addition to the hundreds and hundreds of rocks, minerals, and fossils on display, our collection contains over 120,000 geological and paleontological specimens used in education and research. Our museum staff studies the history, evolution, and diversity of the Earth's geologic record and shares these new discoveries with our communities through our exhibits, programs, and publications.
A recent cooperation with the Wisconsin Institutes for Medical Research has given us the chance to use computerized tomography (CT) scans to take a new look inside some of our "old" specimens. CT scans can be used to aid in the preparation of fossils since they allow us to see what is inside before we even remove any of the rock or matrix. We can also learn something about the preservational history and conservation of specimens using this unique and exciting technique.
Fossil Preparation Lab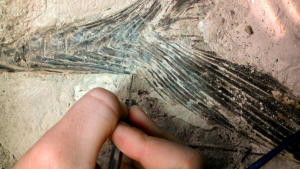 During a visit to the museum, you can watch our museum staff and students opening plaster field jackets, preparing fossils from rock and loose sediment, digitizing and 3D scanning specimens, and performing many other fossil preparation and conservation tasks.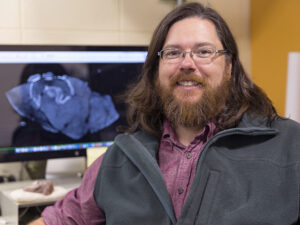 Paleontologist Dr. David Lovelace manages the Fossil Preparation Lab as well as the museum's research programs, which highlight the many stories associated with paleontology that go beyond what fossils alone can tell us.
Dave's work focuses on the Triassic of the Rocky Mountain West, with an emphasis on the paleoenvironments and paleoecology of the Chugwater Group of Wyoming. He is also interested in taphonomic processes, developmental malformations in the fossil record, and vertebrate ichnology.